Elementary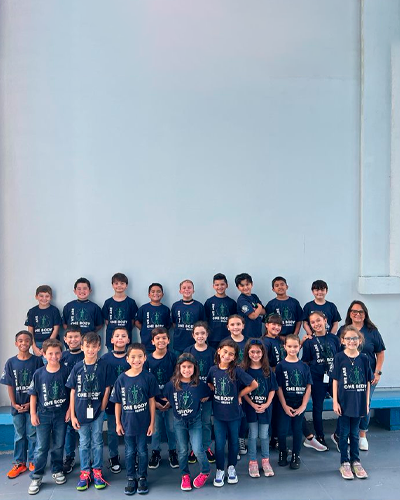 Kinder through 5th Grade
Our curriculum is derived from the Florida State Standards adopted by the Archdiocese of Miami.
Our students are academically challenged, guided spiritually and given a strong foundation for their continued education. Differentiated instruction is used at each level to ensure each student's needs are met. STREAM is incorporated in the curriculum.
Students will have a special course each day of the week.
Our Specials consist of Art, Music, Spanish, PE and Computers.
Students in grades 2-8 are able to participate in any of our sports.
We have basketball, baseball, softball, dance, cheerleading among many others.
Religion is a very important part of our education and is taught daily.
Our students are filled with age appropriate content which truly helps solidify a strong spiritual foundation to ensure a Christ-centered life in an ever-changing world. In addition to religion being part of their daily instruction, students attend Mass every Friday.
One of the beautiful qualities that Immaculate has is a true family environment.
Our families enjoy many events throughout the year where there is ample opportunity to strengthen relationships with our staff as well as other Immaculate families. Our environment and staff ensures that all of our students and families feel safe and welcomed here.